Connect your visitors, collect information about their
behaviour, engage with them through promotions
Wi-Fi is a quick and easy way to reach customers. Shoppers are using mobile devices to get online, search for products, compare prices, and read reviews – while physically standing inside the store. Students are using laptops, tablets, and mobiles to access information is a university campus. Even visitors or guests also want Wi-Fi connectivity when they are in a hospital or participating in a conference.
udaya is India's first Made in India cloud-native platform for enterprises to manage & monetize Wi-Fi and convert Wi-Fi data into business outcomes. udaya allows you to manage hotspots from a central location and incorporates all functions like splash pages, user authentication, hotspot monetization, monitoring, policy management, reporting, and more.
When a user connects to Wi-Fi, a nice splash page with your logo will appear on their device. Users may select the preferred connection method, like Mobile OTP, social login, or free access to start using Wi-Fi. You can redirect your users to offers, social media pages, App downloads, websites, or other promotional content for engagement optimization. Every connection will be recorded, and data provided in extensive analytics for better user understanding and marketing activities.
As a result, enterprises can now unleash the potential of Wi-Fi and can use Wi-Fi data for their business growth. So, get started
today
with our basic plan and scale-up as you grow up.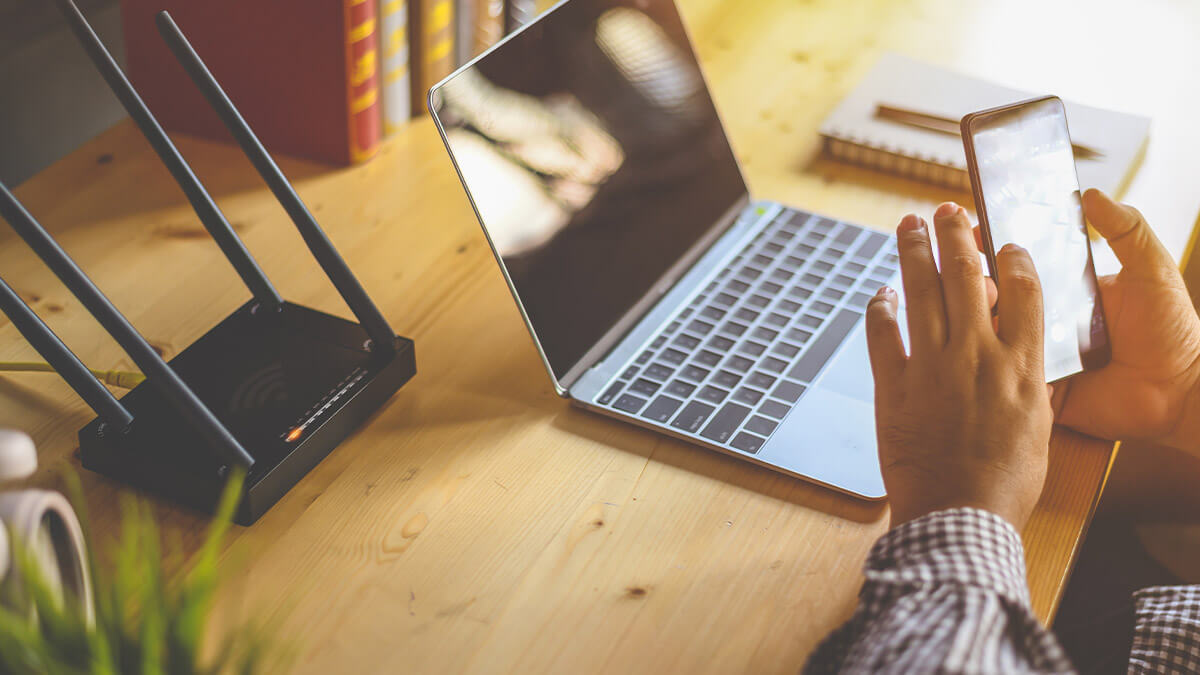 Connect Visitors
Choose how visitors access Wi-Fi with
flexible authentication options.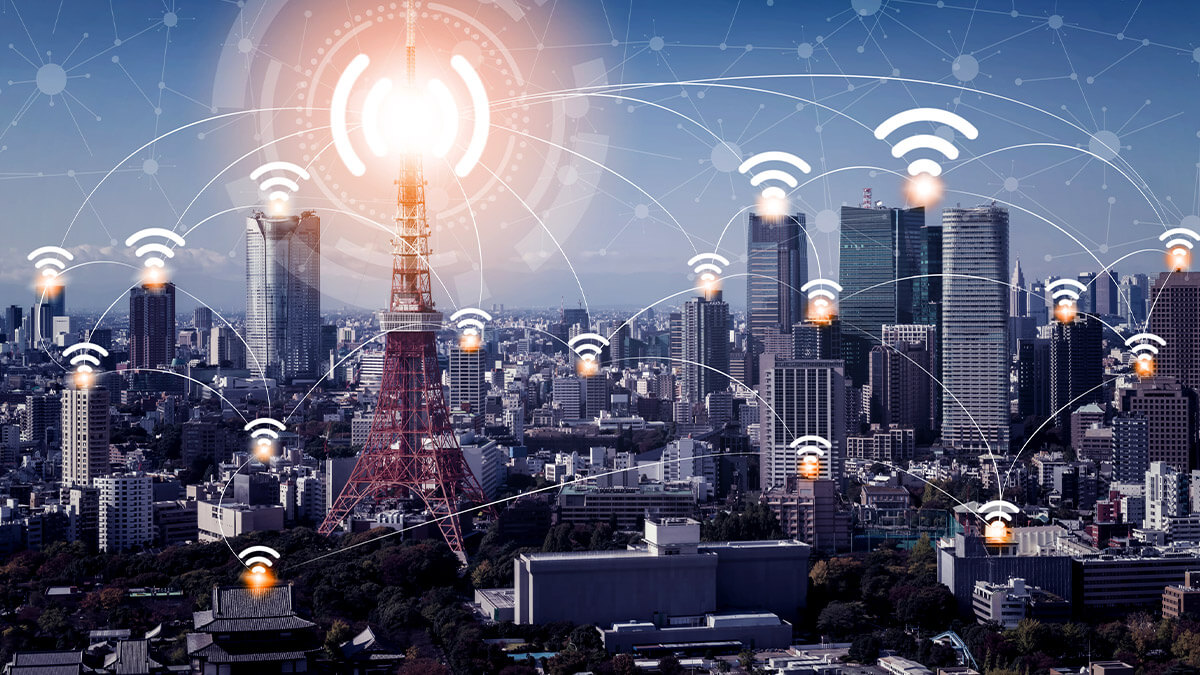 Manage enterprise networks
Understand guests and engage them with relevant messaging and offers.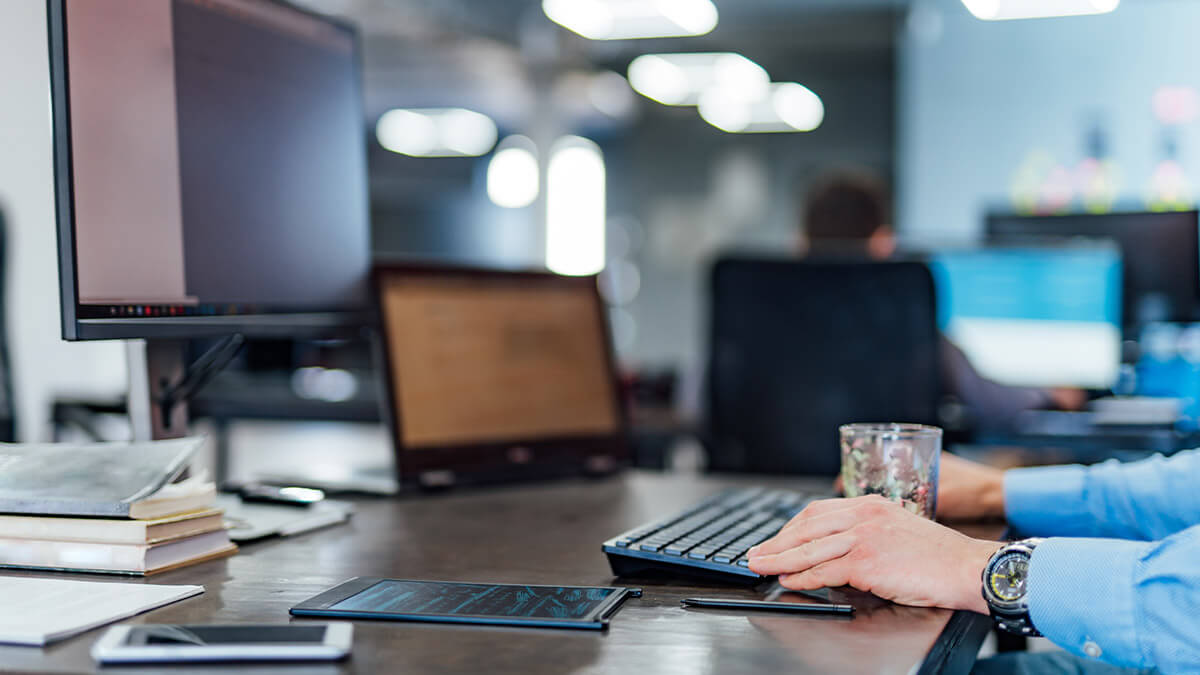 Engage with customers
Understand guests and engage them with relevant messaging and offers.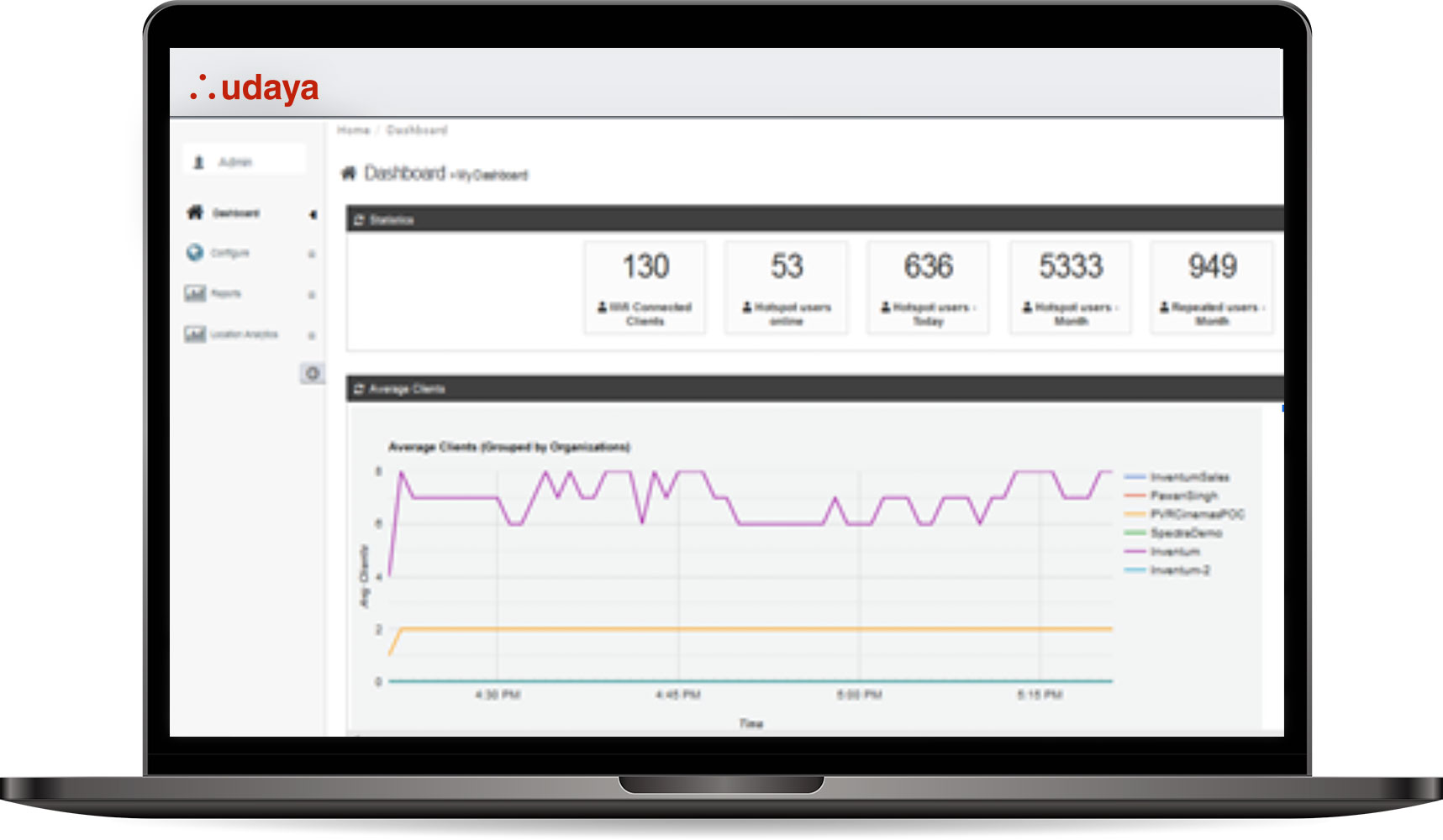 A centralized hub to promote offers, coupons, and announcements to visitors. Everyone who logs onto the Wi-Fi gets taken to the hub before being granted access to the Wi-Fi, giving the provider a captive audience with which to engage.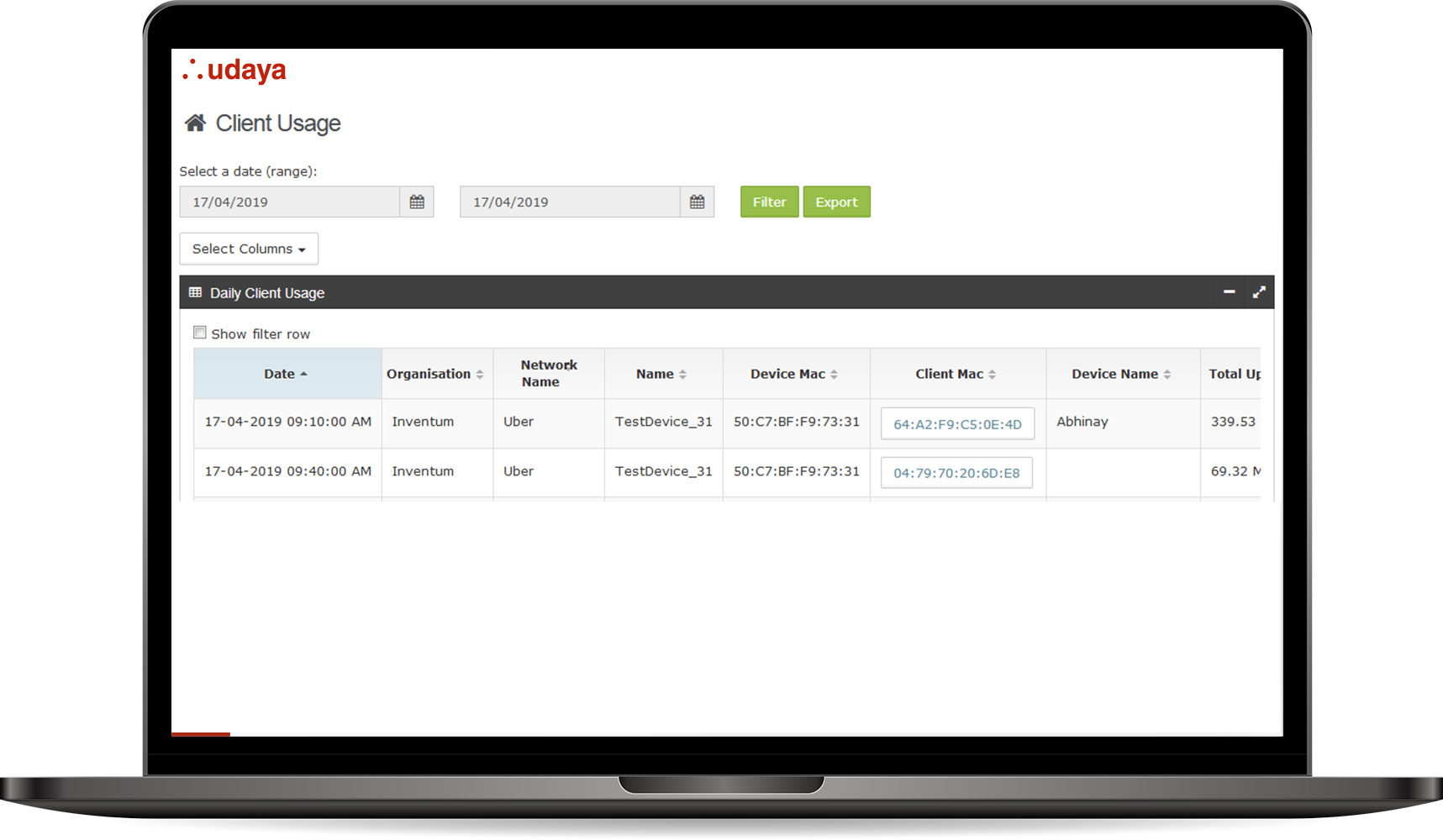 If data use is not controlled and limited, some visitors may consume all your bandwidth, and leave other visitors unable to connect or have a decent browsing experience. Set time, speed, and data limits for users accessing your Wi-Fi.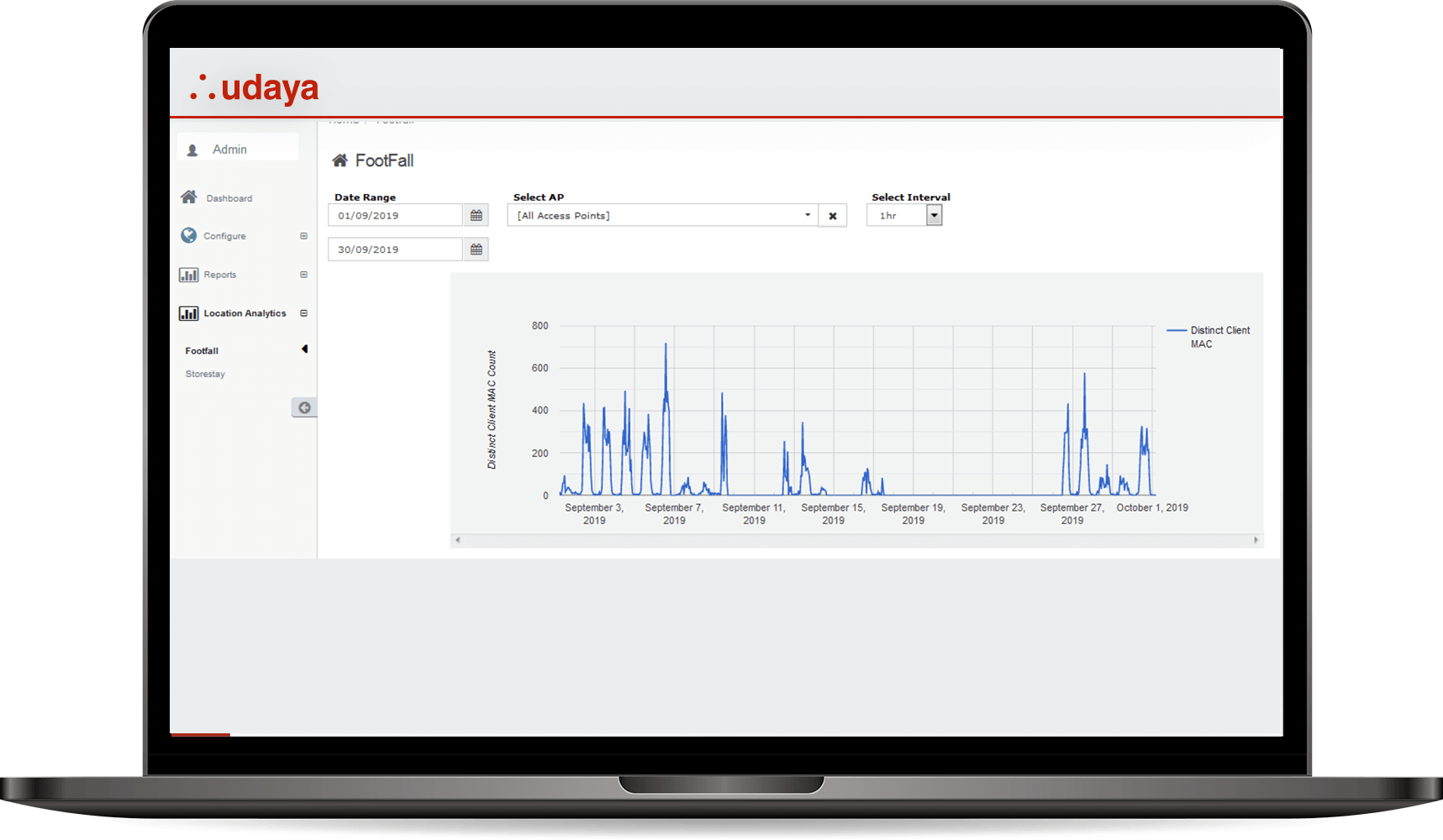 Location Analytics garnered from Wi-Fi usage will give providers a view of which areas are used more frequently. Analyze the traffic distribution across the hours of the day, across the days of the week, and better define your marketing strategies.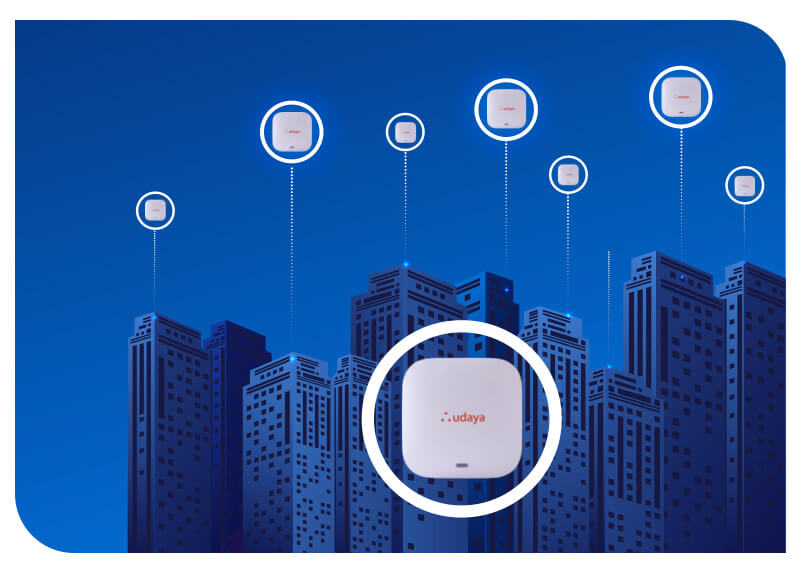 udaya provides scalability to Wi-Fi providers. You can even start from a single AP license and add thousands of sites as you grow. udaya makes it easy to deliver a consistent and high-performance Guest Wi-Fi experience.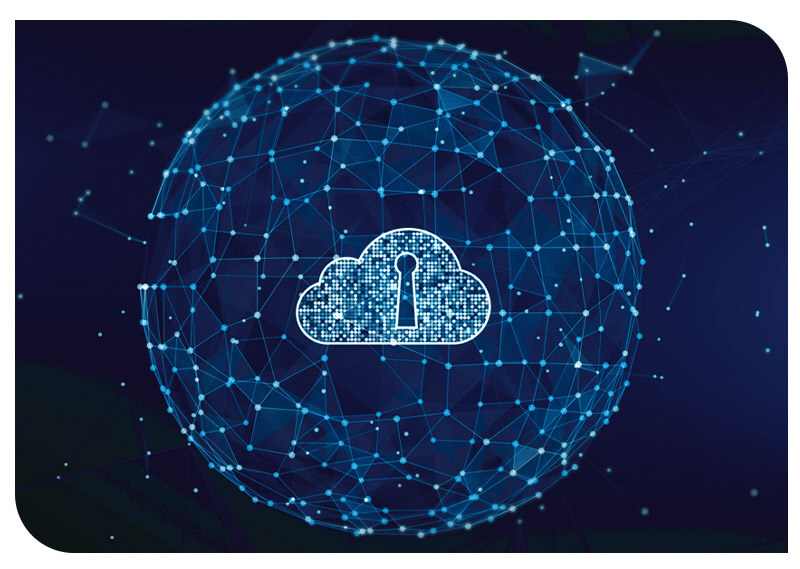 Secure Seamless Internet Connection
udaya provides secure flexible access by Mobile OTP, Social Media, and Scratch Cards. All customers and guests are redirected to a login page where they have flexibility to choose authentication system. They can register using forms or a simple mobile number, even leverage OTP verification code or social media profile.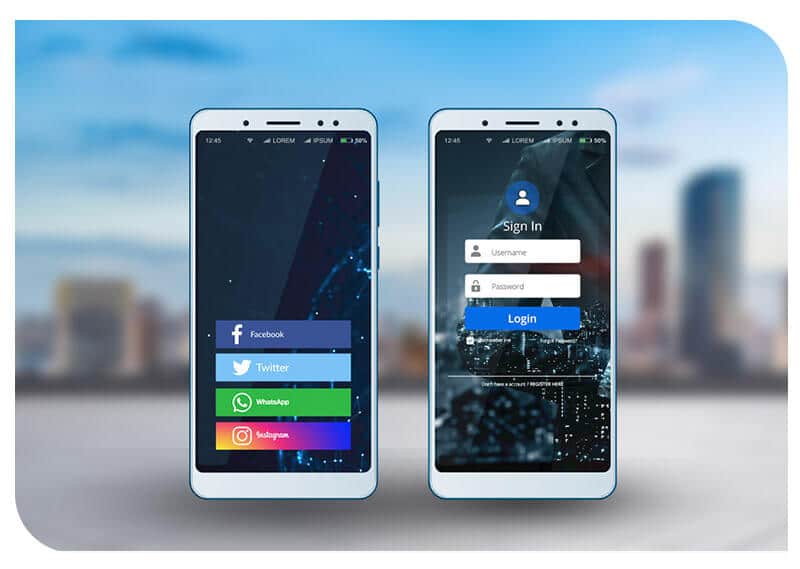 Visitor Wi-Fi networks with social logins for specific events, conferences, or outside guests visiting your locations. The data collected about such users helps in building a list of potential future customers.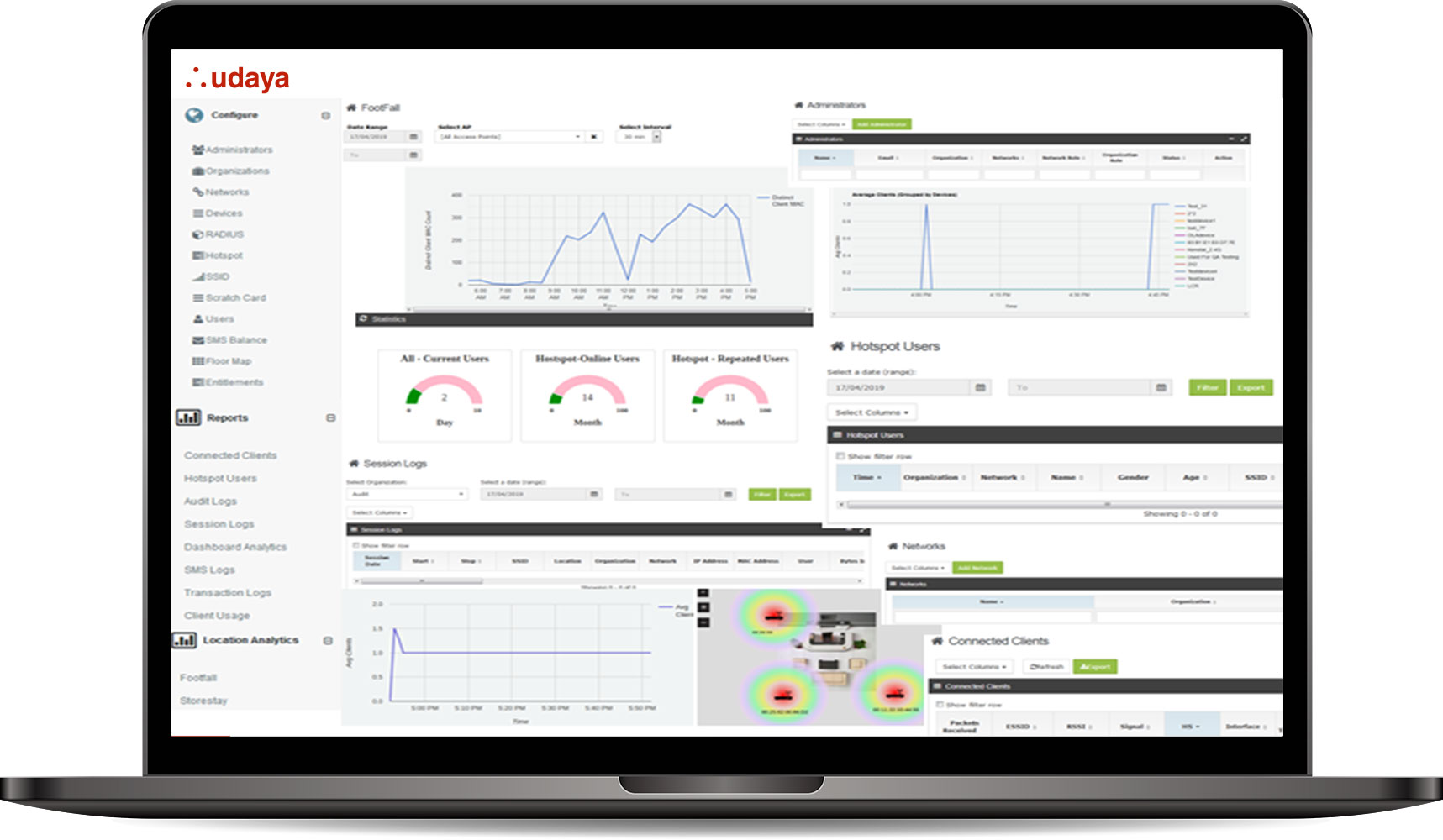 A centralized dashboard to show you connected users, their usage, audit, session logs, and more; helping to understand how users interact and move around your location. Analyze and segment data including, customer demographics, preferred devices, browsers, operating systems and much more.
Shopping malls and retail stores can increase the reach of business by monetizing their free Wi-Fi for continuous visitor engagement and mapping traffic patterns to gain shoppers insights.
Clinics, healthcare centers, and multi-location hospitals can stay connected and get powerful patient insights by providing separate secure Wi-Fi networks for patients and Staff.
Single and multi-location university campuses can enable secure seamless internet connectivity across their campus.